Camp Lejeune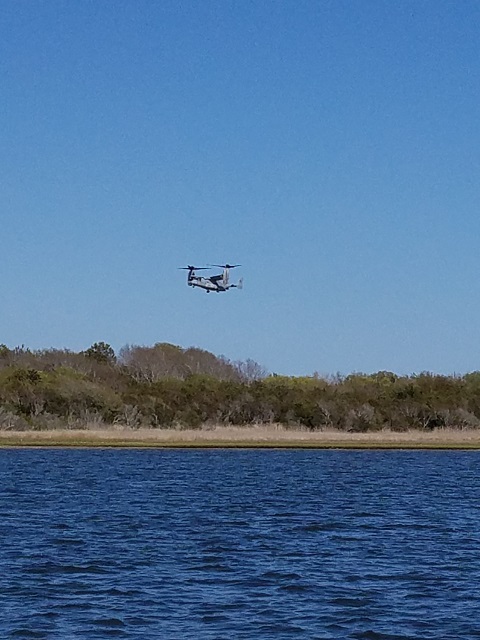 April 18th - Camp Lejeune
We wake up to whole new day. The wind was still out of the south but not howling out of the south-west. We covered the same ground as the day before in under 5 minutes.
Now we're heading west, the intracoastal canal is very different. Now we are in mostly natural channels protected from the sea by low barrier islands. There's not a lot of trees and the canal is dredged to depth and marked by buoys.
We motored until early afternoon and then entered a dredged area in the army camp Camp Lejeune. It was quite busy, but there isn't really a lot of places to hole up between Moorehead City and Wrightsville. So we stopped earlier than we liked to and had a pleasant afternoon watching the army work. There were Osprey (the plane that flies like a helicopter) flying back and fore. They kept at at it until nightfall but it was quite a pleasant day. We watched boats enter and anchor, and slip anchor. It was better than television.
Failed to find a mooring or birth at Wrightsville. The cruising guide had bulled this place up and it was quite a disappointment not get to to spend the night there. Luckily we had time so we just kept going. Turns out, map reading error aside that there wasn't really anywhere to stop until the cut into the Cape Fear river. The place we did find was more than a little exposed and being tied up at the gas dock looked like a night of misery. High winds were forecast and the canal to the Cape Fear River (Snow's Cut) fed right out at the dock, channeling the promised southwest winds. So we kept going to Carolina Beach and the promised moorings. These were a little hard to find but there were several (surprisingly) still open. This was Dennis' first mooring. Sadly it was the skipper's cock-up that stopped us grabbing the mooring first time. I wish we'd had the dinghy together here because not only was this an excellent mooring, very well protected, but it was smack bang in the middle of town. Still made for a good nights sleep.
New River grounding.