Dismal Swamp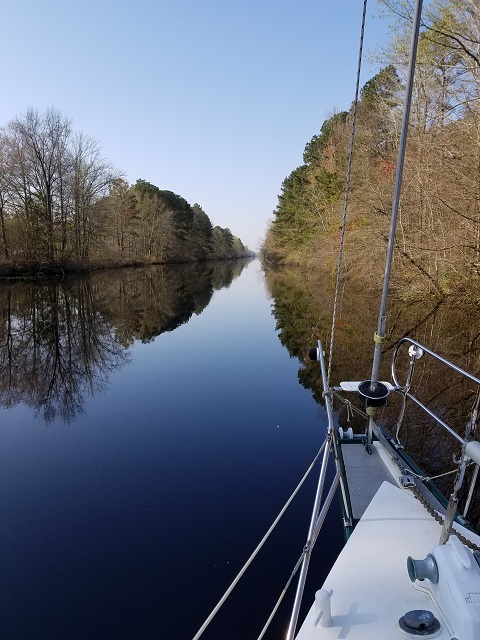 April 12th
We spent the night up against the dock, without shore power, which means no little heater. Damn it was cold.
The yard the boat had wintered at was actually right on the north end of the Dismal Swamp Canal. A fact I had actually missed until tonight, when trying to figure out how to get to the Dismal Swamp Canal. Oh look we're already on it. We got up and left early, engine started, and we headed to the first bridge. It was one we'd crossed many times in the car already, now the cars would be waiting on us. This canal is really not that wide, and really not that deep. We hit bridges and locks, and bridges and locks. This all done under power and we hadn't even bothered rigging the sail yet.
We get to the Dismal Swamp Visitor center a little after lunch and we decide to stay. There's no where really else to stop and quite honestly I don't really feel like pushing things the first day. Its quiet, we're first one in, get to tie up and then get cleaned up. We were joined by 2 other boats, one heading north (Hearken) and another boat heading south. The one heading south comes in using bow-thruster and no bumpers. A bit messy, but no lasting damage. Turns out this couple is from Maryland and are heading to Florida on a boat they just bought.
We finished rigging the sails in the afternoon and Dennis got a run in over at the state park. Good facilities here, clean and, well clean. The visitor center actually serves as the North Carolina visitors center on what looks like a pretty busy road.