Dry Tortugas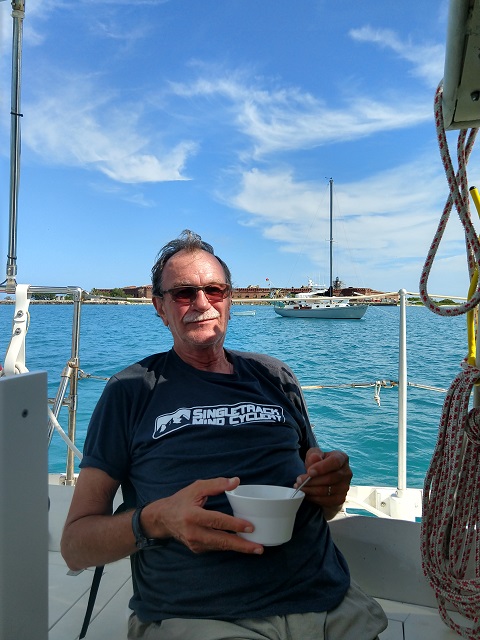 May 18th
Headed out to the Dry Tortugas, wind was light but out of the southeast, so we sailed until about 2 in the morning when my patience snapped and the iron spinnaker was fired up. Just at the north end of the Key West Northwest channel we see most of the tour boats from Key West. It looks like they come here to see the dolphins (mammals, not fish). We pick up a couple for company and stay with us for an hour or so. These are big dolphins, at least 8 feet long and they move easily, not rushing at all. Dave's stomache is upset after the greasy food in Key West. Spent a lot of cabin time during the day but was up and ready for the night watches.
May 19th
The next morning gave us more wind and we were in to the harbor around noonish. Took a couple of tries to set the anchor, but never really got it set. Too much grass for that plough to penetrate. Thankfully this is a really nice anchorage and the storms just seem to go around us here. Got to walk the fortress, pretty impressive, the big guns here are big, really big and in surprisingly good condition. The Biggest surprise is the size of the fortress – its huge. They had to catch all their own water here from rain (and still do), hence the name DRY Tortugas.
The Ferry runs and from Key West to here and its quite a nice little park, with about 16 people or so camping overnight. There was also a pair of float planes that land right in the harbor. Quite impressive when they land and take. Both Dave and I muffed videos of the take offs and landing.
Pics
There are lots of pictures from Dry Tortugas. Below is a sampling, the rest can be seen by clicking here.