Matecumbe Bight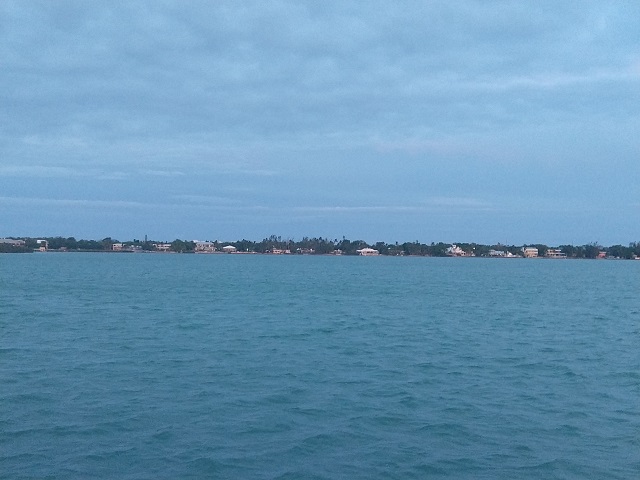 May 11th
Didn't go very far today. Weather sucked in the morning, lots of thunder, lots of rain, almost stayed put, but pushed off in the afternoon. Heading to Lignumvitae Key. This key is a pristine key (park service managed) and is named after a very hard-wood tree that was used to make police truncheons. This tree used to be abundant elsewhere in the keys but has been chopped down everywhere else (damn those policemen!). They run tours at 10:00 and 2:00. I figured I could go hangout in the mooring field overnight and then dinghy in to the park in the morning.
So I brave the weather and put the dinghy together. Getting the dinghy out of the sail locker is like delivering a 200lb baby, uphill.
I had trouble finding the mooring buoys, but eventually there they were laid out about 30 yards from the shore, yep there were 6 of them just like the book says. I head over and tie off on the rattiest mooring buoy I have ever seen. No pennant! (and no black hoop like the book says, still at least its the right color). So I watch the shoreline, and it looks like we're moving slightly even in the good protection of the key. I don snorkel, mask and flippers. Sure enough this buoy is tied to a crab pot. I call the Park and ask them about Mooring Field. "Oh no hon. The hurricane wiped out the mooring field, its not there anymore". Shit! Anyway the lady recommends not anchoring there but in the Matecumbe Bight – it has great holding. So dutifully I head out, it now getting a little late in the day. And the lady was right. Matecumbe Bight did have good holding.
I never did manage to visit Lignumvitae Key. I wonder what I missed.