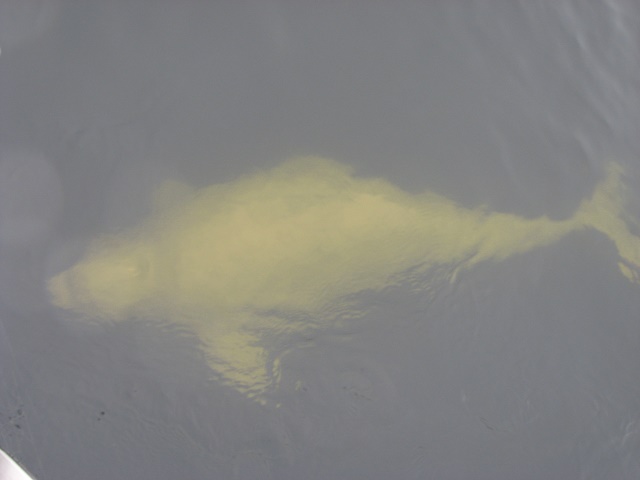 9/10
Heading to Rimouski across the river. Its close to 56 miles and will be one of our longer days. We motor out of the harbor and put up sails, because there's winds, yay! Doesn't take too long before balugas join us. So cool, one surfaced just 5 yards behind the boat, scared the shit out of me. A couple swam right behind the boat, just playing in the wake. One even hung around and swam on his side just to have a good look at us. Definately a high point. Mental note I need to replace my underware.
We sailed the whole way to Rimouski and get there about 9 ish. Patrick is already there, he texted. I'm surprised I had cell service and Mike explains we've had cell service the whole way. What ?!?!? I've been turning my phone off assuming it was useless. Couldn't raise the marina staff (no surprise) so we just pick a spot. Mike is heading out tonight, just enough time for him to meet Patrick, and split the bottle of Cardhu I've been hoarding. Shame to see Mike leave, he saved my arse by being there for me in the locks. Apart from that he's been really good company and more than helpful on the boat. Now he has something like a 4 day train ride back to Dallas. The train leaves Rimouski at 2 in the morning.
9/11
Unfortuantely Patrick has the shits, and is obviously not feeling that good. We take the day off. Incredibly there's a Canadian Tire just up the road!! Hooray. I need to get get some cold weather clothing, its getting so cold. By the end of the day Patrick is looking a bit better but still obviously drained (in more than way :))
9/12
Damn! Should have checked the weather forecast earlier, today's weather - rain and winds 50 kmph, gusting to 70. Thats 30 to 40mph. I'm not going out there in that. Good decision! The wind in the marina is howling, all flags are horizontal and stiff. Even the fishing boats are all tied up on the wall. That wind has to be more than 30 mph sustained. We get the stuff we missed the day before and had lunch out. Patrick has been cooking and doing a great job. Its nice to have someone else do the cooking.