Cap a L'aigle to Tadoussac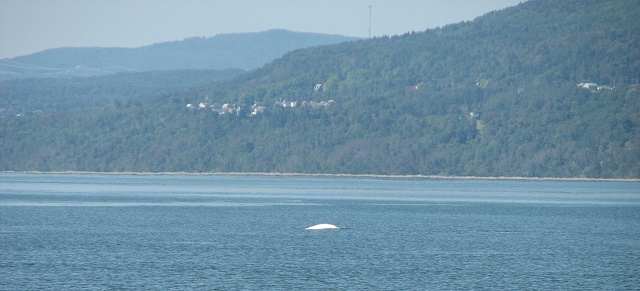 9/4
We left Cap de l'aigle under power and ran right in to belugas. Quite a sight. We're not supposed to be within 400m of Belugas but we blundered right into them. Stopped and let them move on. They are are bright white under the summer sun. Wind picked and we sailed, the river is deep and wide here, we don't have to follow the channel markers anymore. We get to Tadoussac, and we're 4 miles out when we take down the sails. We motor to the harbor but I screwed up on our arrival time. The tide is on ebb and it takes 4 hours to go 4 miles. The ebb tide is running over 6 mph and we can't make headway. We watch the buoy lights and head for them but they just don't get any closer. We basically get no where until the tide changes. We have a spot reserved in the marina but the guy gives us the slip information and goes home.
All the spots in the marina are parallel parking. We stop at a public dock and find our spot. The marina guy said he measured but its going to be tight. We get the boat in without incident, theres about 3 feet spare in front of us and 2 behind. High 5s on that one.
It is so cold now. I sleep with a t shirt, my sleeping bag liner, the light sleeping bag, and a blanket. Its nice during the day but when the sun goes down, its cold.