Tadoussac to Anse Saint Jean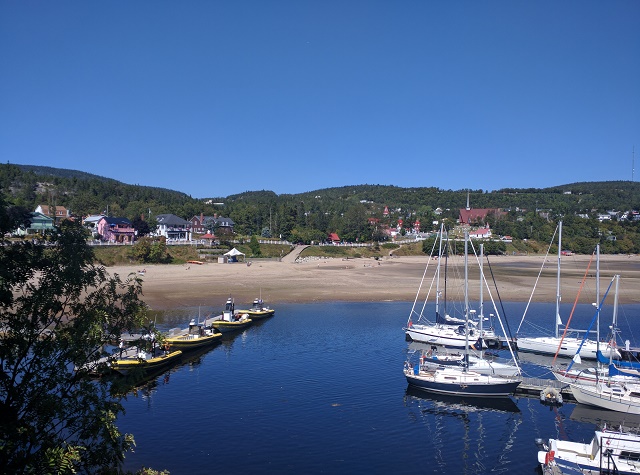 9/5
Took a rest day in Tadoussac. Walked the cliffs, visited the whale museum. Got charts for the Saguenay. Sat up on the marina with a chimney fire going in the evening. And we needed the fire, its not just chilly here its cold.
9/6
Got going earlier because Mike booked us on a whale watching trip. So many whales here. We saw Balugas, Minke and Fin whales. The fin whales are big whales and quite often you would hear them before you see them. Big spouts from them. The minkes are black and smaller they come in at a mere 10 meters, and there's so many of them.
The river, opposite Tadoussac, is where the St Lawrence meets the Labrador current (cold salt water), an off-shoot of the Gulf Stream (warm salt water), and the Saguenay river (cold fresh water). Its a smorgasbord for the whales and its deep. over a 1000 meters in places.
Left at about 2, and caught the rising tide to help carry us up the river. No sailing today, the winds are light and once in the fjord there's no wind for long distances. The fjord is deep, more than 500' - the depth sounder can't tell us how deep. The walls are steep and wooded. Its very dramatic. Saw balugas at a few places, one surfaced withig 30' of the boat. They are lot bigger when you see them close up. As we passed between a headland and an island I saw something in the water I walk up front and take a look then call Mike. It was a fox swimming. It must have already swam 1/4 mile and a 100 yards to go. I think Mike got a photo of it. Such a weird thing to see. The weather here is warm, really quite comfortable. So unlike Tadoussac.
We're at the marina in Anse Saint Jean. Very nice and strangely all sailboats. A nice young guy helped us in, lives on his boat here. This a sleepy little tourist town, but again utterly charming. In the winter they ski here. Went to dinner wearing t'shirt and shorts. Dinner was at a micro brew pub.